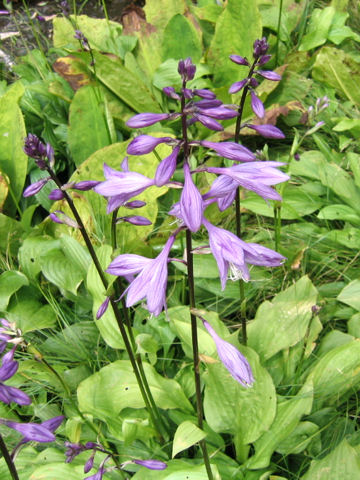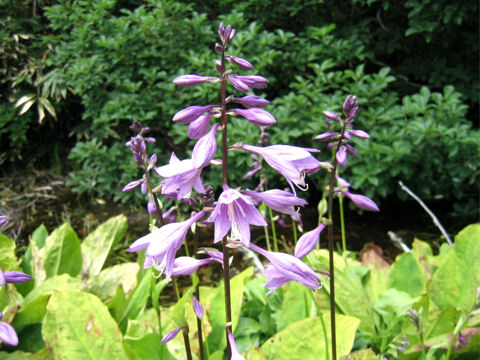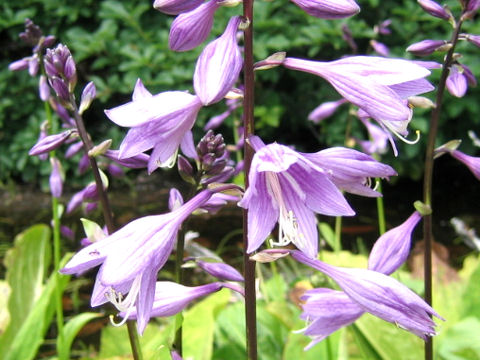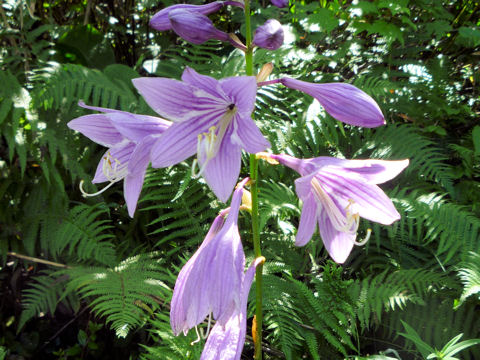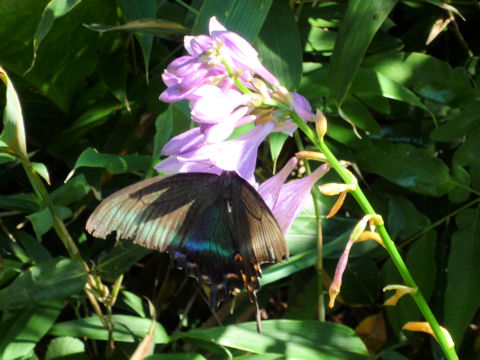 '킪''Ì–{BA'†•"'n•ûˆÈ–k'©'ç–kŠC"¹'»'ê'É"ìç"‡'âƒTƒnƒŠ


ƒ"AƒVƒxƒŠƒA'É•ª•z'µ'Ä'¢'Ü'·B•½'n'©'爟'ŽR'Ü'Å'ÌŽ¼'n'⑐Œ´'È


'ǂɐ¶'¦A''³'Í'U'O`'P'O'OƒZƒ"ƒ`'É'È'è'Ü'·B—t'Í'·'ȉ~Œ`'Å'·'¢


•¿'ª' 'èA‰'Í"g'Å'¿'Ü'·B–¼'O'Í—t'ªAªŒ³'©'ç—§'¿ã'ª'邱'Æ


'©'çB'VŒŽ'©'ç'WŒŽ'²'ëA'·'¢‰ÔŒs'ðL'΂µ'Ä'W'¢Ž‡F'©'ç"ZŽ‡F'Ì


‰Ô'ðç'©'¹'Ü'·BŽá‰è'́At'ÌŽRØ'Æ'µ'Ä'¨Z'µ'â|'Ý'»˜a'¦'È'Ç


'É—˜—p'³'ê'Ü'·B‰ÔŒs'àŽ‡ŠŒF'ð'Ñ'Ñ'é'Ì'ªˆóÛ"I'Å'·B


ƒ†ƒŠ‰ÈƒMƒ{ƒEƒV'®'Ì'½"N''ŁAŠw–¼'Í Hosta rectifoliaB


‰p–¼'Í' 'è'Ü'¹'ñB


"Tachi-giboushi" (Hosta rectifolia) belongs to the Liliaceae (the Lily family).


It is a perennial herb that is distributed northward from Chubu district of


Honshu to Hokkaido, also southern Kuril Islands, Sakhalin and Siberia.


This herb grows in flatland to sub-alpine bogs or grasslands, and can reach


60-100 cm in height. The leaves are oblong with long petioles and undulate


edges. The pale purple to dark purple flowers bloom on the long flowering


stalks from July to August. The young shoots are used for wild vegetable,


boiled green or marinated food of vinegared bean paste. It is defined by


striking purple-brown flowering stalks.


[ãE'†'P`'Q] H"cŒ§—R—˜–{¯Žs–'¬u—³ƒ–Œ´Ž¼Œ´v'ɂāA


2005"N07ŒŽ18"úŽB‰eB


['†'RE‰º] –kŠC"¹'†ìŒS"ü['¬u¼ŽRŽ¼Œ´v'ɂāA


2010"N08ŒŽ08"úŽB‰eB(photo by Aya Nishizawa)